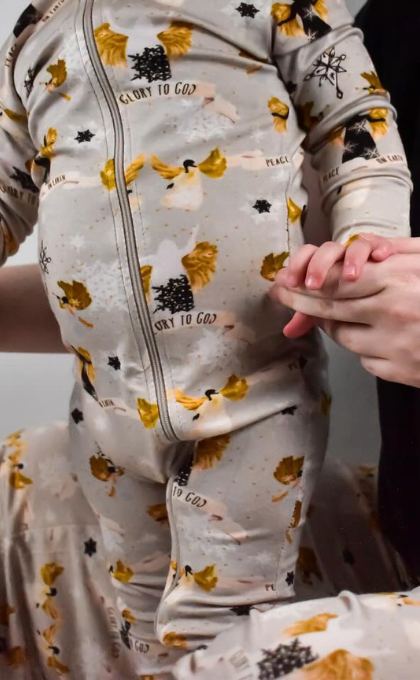 Elevate Your Style with the Freshest Additions to Our Ethical and Inspiring Collections
Newest Items
Our Mission: Ending Trafficking, One Stitch at a Time.
At Tiny Revival, we are more than a clothing brand. We are a movement, inspired by our founder Lauren's journey fighting human trafficking. We believe in creating a better world for our children and yours. Every purchase supports fair trade and helps in the fight against slavery locally and globally. Our unique, hand-painted Bible Story prints are not just clothes; they're conversations about faith and values, nurturing the next generation of change-makers.
Discover Our Ethical Collections.
Explore our curated selection of eco-friendly clothing, including baby rompers, kids' pajamas, girls' dresses, daywear, and matching adult loungewear. Our exclusive Tencel™ Modal fabric, renowned for its softness and sustainability, is gentle on the planet and perfect for sensitive skin. Each design, meticulously hand-painted by our artist Emily Drew Mash, tells a story, making your purchase an investment in both quality and purpose.
Why Choose Tiny Revival?

Transform Lives
Every purchase at Tiny Revival supports fair trade, fights human trafficking, and nurtures your child's faith, making your choice a powerful catalyst for change.
Eco-Friendly Elegance
Embrace eco-conscious fashion with our Tencel™ Modal fabric, offering silky softness that's gentle on your family's skin and the environment.

Community of Purpose
Join a vibrant community of Christian moms, passionate about instilling values, sharing stories, and fostering a future of compassion and faith.

Tailored to You
Experience personalized service, exceptional quality, and hand-painted designs that transform every garment into a cherished keepsake or gift for your friends & family.
Capturing Precious Moments in Tiny Revival
Where Little Lives Wear Big Stories
Let customers speak for us