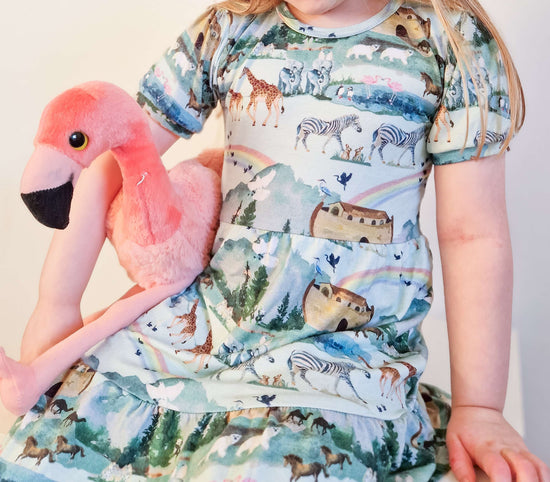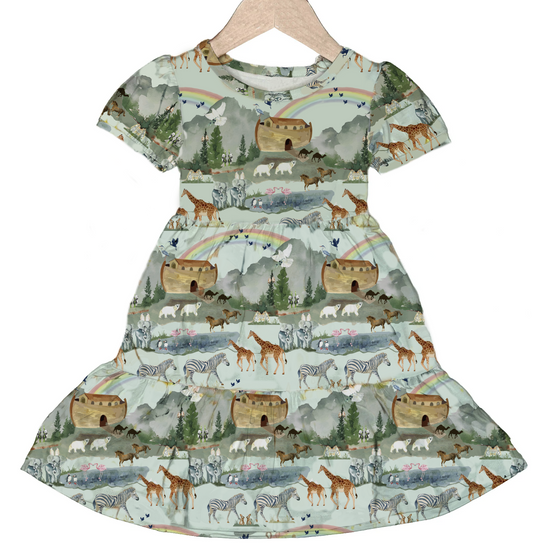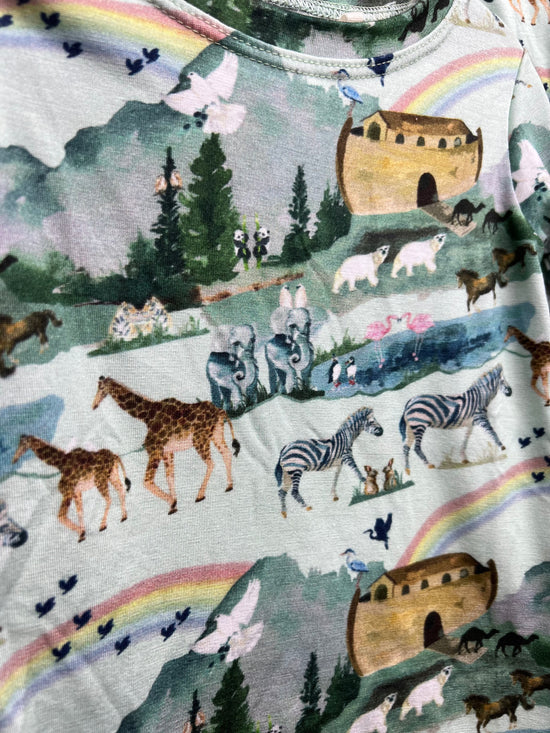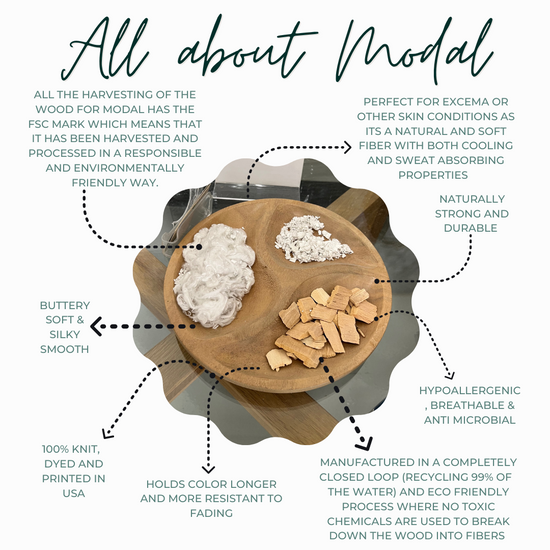 Noah Puff Sleeve Twirl
Make a Difference with Every Purchase
Shop with purpose at Tiny Revival – your choice not only brings comfort and style to your family but also actively combats human trafficking. Join us in making a significant impact, one purchase at a time.
Order in the next to get it between and
Description
Sizing
Reviews
Shipping & Returns
Wearable Art
Sustainable & Ethical Impact
Description
Introducing our captivating Girls' Puff Sleeve Twirl Dress – a creation that weaves the enchantment of Noah's Ark from the Bible into a dress that's both stylish and delightful. If you're searching for a dress that brings the pages of the Bible to life while adorning your little one in elegance, your quest ends here.
🌸 A Biblical Journey Unfolds: The Girls' Puff Sleeve Twirl Dress isn't just a dress; it's a tangible connection to the captivating tale of Noah's Ark. The intricate design artfully showcases the beloved story, allowing your child to embody the wonder and lessons from the Bible. The delicate puff sleeves and twirl-worthy skirt infuse this dress with the spirit of adventure and faith.
With unwavering attention to detail, we've crafted the Girls' Puff Sleeve Twirl Dress to be more than just an outfit – it's a testament to heritage and belief. Let your little one's imagination soar as they wear this dress, carrying with them the timeless wisdom of the Bible and the joy of sharing a sacred story.
Elevate your girl's wardrobe with the Girls' Puff Sleeve Twirl Dress – where the essence of Noah's Ark meets style in the most enchanting way, echoing the teachings of faith through fashion.
Sizing
Reviews
We get so many compliments!
This is a gorgeous and fun dress. Every time we wear it my girls love to look at all the animals and we frequently get stopped in public by people telling us how cute it is!
Stunning!
I can't even describe how beautiful every little detail in this dress is! Everywhere you look there is something else to admire. And the dress is super soft! My daughter loves this dress!
Wearable Art
Experience the beauty of wearable art in every piece, handpainted by our talented artist, Emily Drew Mash.
Sustainable & Ethical Impact
At Tiny Revival, we believe in the power of conscious choices, and your purchase goes beyond just stylish clothing for your little ones. Our garments arrive beautifully packaged in our biodegradable & compostable bags, a part of our Responsible Packaging Movement. It's our way of ensuring that the joy of receiving our clothes is shared with the environment.
But the impact doesn't stop there. With every purchase, a portion is dedicated to A21, an organization committed to eradicating human trafficking through awareness, intervention, and aftercare. Your choice actively contributes to this cause, making a tangible difference in the fight against modern-day slavery.
Moreover, our commitment to ethical practices extends to our fair trade manufacturing artisans in India, where predominantly women artisans craft each item. By providing meaningful employment, we not only create exquisite clothing but also offer hope, income, and support for their children's futures.
At Tiny Revival, we're not just delivering the highest quality clothing for your little ones; we're crafting a brighter, more compassionate world. Join us in this impactful journey, where your choices echo beyond fashion and resonate with lives, communities, and the planet.